Alumni Updates
Tell us what you are up to by filling out the story form.
SUMMER 2018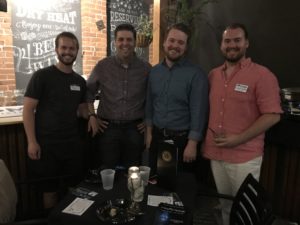 The newly formed Tucson Arizona Boys Chorus Alumni Association held its first official event on Thursday, July 12 at Highwire Lounge in downtown Tucson.  Pictured here are alumni: Ryan Phillips, Tyler Wright, Carson Wright, and Garrett Rohwer.
Fall 2015
Caso Memorial: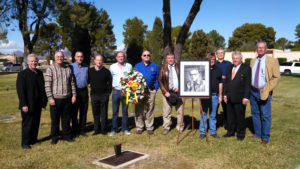 TABC alumni gathered at South Lawn Cemetery to honor Mr. Caso on the 50th Anniversary of his death and reminisce about their Chorus experiences.  In the photo from left to right: Julian Ackerley (current Director), Dick Dillender, Paul Thompson, Kelly Burkholder, Jim McCallum, Tom Wilson, Bates Butler, Mr. Caso portrait, Rick McCallum, Craig Liming, Jeff Haskell (Director 1965-1975), Bob Fee.
Spring 2015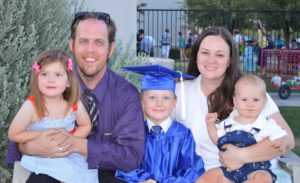 Daniel Tenney '96 is currently teaching choir at Valley Vista High School in Surprise, Arizona.
He teaches four different choirs. His concert choir got a Superior at NAU Jazz/Madrigal Festival last year. Daniel's show choir also took 1st place at the Los Alamitos XTravaganza in California. Daniel also serves as the Composer in Residence at Ghostlight Theatre and wrote a musical for them last year and will be writing again for their next season. Daniel is married to Megan and has three awesome children: Carter, Vanessa, and Harrison.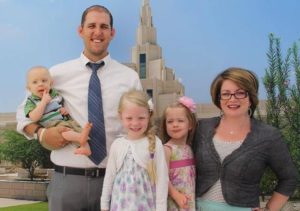 Chris Tenney '99 is the director of band and orchestra at Bradshaw Mountain High School in Prescott Valley, where he directs jazz, concert and marching bands, as well as, a string orchestra.  Chris received his bachelor's degree from the University of Arizona and master's degree from Boston University, both in music education. Chris is married to Layla, a theatre director at Prescott's Center for the Arts. Together they have three incredible children: Lila, age 5; Maeve, age 3; Asher, 16 months. Chris is excited about an upcoming marching show this fall – an all original composition by his brother, Daniel Tenney!
Jonathan Plaza '04 is finishing up at Marquette University School of Dentistry in Milwaukee, Wisconsin. Right now Jon is interviewing for jobs in the Seattle and Denver areas. He was given a full scholarship to dental school by the National Health Service Core and intends to practice general dentistry in an underserved area for three years. After his service, Jon plans on spending an additional three years in a Periodontics residency.  In his downtime, Jon has gotten into climbing with one of his childhood friends and recently climbed their tallest peak to date, a 19k peak in Peru. Jon regularly plays his guitar, piano, and sings.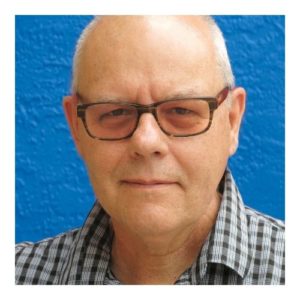 Jeff Speigner '65 – '66 spent the majority of his life in the Seattle area after he left Tucson (and TABC) when he was 12 years old. He graduated Bellevue High School and served as Military Cinematographer during the Viet Nam war. Jeff is grateful he saw neither combat nor was sent to Viet Nam during his tenure. Jeff continued his studies in commercial photography and art at Seattle Central Community College and Washington State University. After graduating he served as a graphic designer for The Boeing Company for 30 years. Jeff returned to Tucson in 2010. He married and has one daughter, two stepsons, one stepdaughter, and a brand new granddaughter. Although he wishes he would have continued singing throughout his life, Jeff has fond memories of the time he did have with TABC.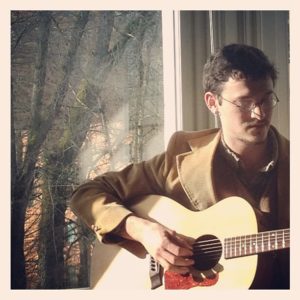 Jeff Evans '05 is presently teaching middle and high school choir at Valley Catholic School in Beaverton, Oregon. Jeff plays drums in several bands around Portland, and continues to write music of his own. He and fellow alum, Jonathan Plaza '04, had much success with their band Monterey while in high school.  Although they no longer play music together, their music lives on through the timelessness of the internet.  Jeff also sings in the Westminster Presbyterian Chancel Choir as the bass section leader and frequently serves as Assistant Conductor.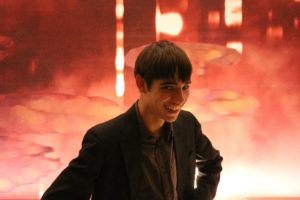 James Mendola '09 is currently studying vocal performance at the University of Arizona with Dr. Kristin Dauphinais and was a semi-finalist at the classical singer competition.   He fondly remembers roping on the streets of Australia.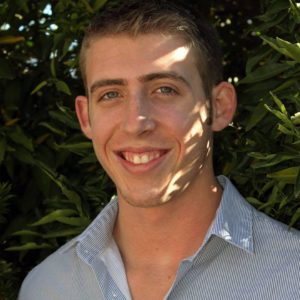 Cody Van Cleve '09 is a current member of the Arizona State University Barrett Choir and is studying engineering. He recently traveled to France and performed the Faure Requiem in La Madeleine Cathedral, the location for which it was originally written. Van Cleve works for ASU and teaches kids at recruiting events how to rope for fun.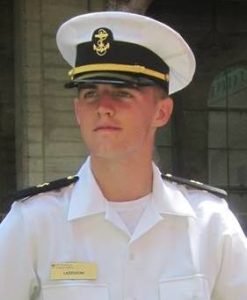 John Lazzeroni Jr. '10 is working toward becoming an Officer in the U.S. Navy while studying electrical engineering at University of Southern California. He currently sings in the USC Apollo Men's Choir and won first place in a freshman talent competition by fancy-trick rodeo roping.
Brandon Ellsworth '06 became a member of the Grammy nominated ensemble, Williamson Voices, and performed with New York Philharmonic, Philadelphia Orchestra, and Vienna Philharmonic at Carnegie Hall and the Kimmel Center.  Brandon studied Choral Conducting with Dr. James Jordan at Westminster Choir College.
Jacob Harmon '14 is enjoying his Freshman year at Desert Christian High School.  Since his graduation from TABC, Jacob has joined the high school swim team and hopes to be on the basketball team in the spring. Jacob volunteers with the AWANA club at his church helping 3-4 year olds.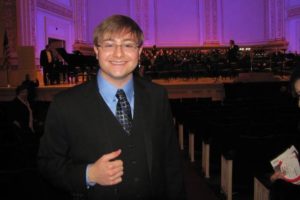 Anthony Constantino '09 graduated high school early and is currently living in NYC studying classical composition under Dr. Richard Danielpour and singing under Kent Tritle at the Manhattan School of Music. Anthony performed in, conducted, and composed works premiered at Carnegie Hall and other international venues. He was the 2014 YoungArts winner for classical composition.